Article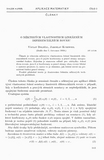 Full entry |

PDF (2.1 MB)
Feedback
Keywords:
ordinary differential equations
[1] Coddington E. A., Levinson N.:
Theory of Ordinary Differential Equations
. Mc Graw Hill, N. Y. 1955.
MR 0069338
|
Zbl 0064.33002
[2] Sansone G.: Equazioni differenziali nel campo reale. Bologna 1948.
[2b] Сансоне Дж.:
Обыкновенные дифференциальные уровнения, том. 1
. Изд. иност. р. лит., Москва 1953.
Zbl 0053.48302
[3] Pipes L. A.: Analysis of Linear Time-Varying Circuits by the Brillouin-Wentzel-Kramers Method. Trans. AIEE 1954.
[4] Erdélyi A.: Zur Theorie des Pendelrückkopplers. Arch. der Physik 38, 21 (1935).
[5] Faddějeva W. N.:
Metody numeryczne algebry liniowej
. Panstwowe wyd. naukowe, Warszawa 1955.
MR 0071858