Article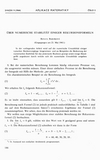 Full entry |

PDF (1.4 MB)
Feedback
Keywords:
numerical analysis
[1] Д. К. Фаддеев В. H. Фаддеева:
Вычислительные методы линейной алгебри
. Москва 1960, стр. 187.
Zbl 1225.94001
[2] I. A. Stigun M. Abramowitz:
Generation of Bessel Function on High-Speed Computers
. Math. Tables and other Aids Comput. 11 (1957), 255-259.
DOI 10.2307/2001944
|
MR 0093939
[3] J. B. Randels R. T. Reeves: Note on Empirical Bounds for Generating Bessel Function. Can. Assoc. Comput. Mach 1 (1958), No. 5,3.
[4] R. Babušková:
Eine Bemerkung zur Tschebysheffschen Approximation der Funktion sin x/x
. Wissenschaftliche Zeitschrift der TU Dresden 12/1963, Heft 1.
MR 0164176