Article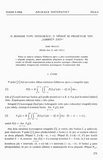 Full entry |

PDF (4.8 MB)
Feedback
Keywords:
differentiation and integration; measure theory
Related articles:
[1] J. Matušů: O jednom typu integrálu, u něhož se projevuje tzv. "Gibbsův zjev". Aplikace matematiky, svazek 6 (1961), číslo 4.
[2] J. J. Gergen: Convergence and summability criteria for Fourier series. Quaterly J. of Math. (Oxford) 1 (1930).
[3] G. H. Hardy W. W. Rogosinski:
Fourier series
. Cambridge University Press (1956) (existuje ruský překlad).
MR 0044660
[4] J. Matušů:
Das Dinische Integral und die Frage der Konvergenz des Fourierschen Integrals
. Publicationes Mathematicae (Debrecen), Tom X (1963).
MR 0167782