Article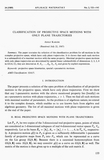 Full entry |

PDF (2.1 MB)
Feedback
Keywords:
projective kinematics; special $s$-parameter motion
Summary:
The paper contains the solution of the classification problem for all motions in the complex projective space, which have only plane trajectories. It is shown that each such motion is a submanifold of a maximal motion with the same property. Maximal projective space motions with only plane trajectories are determined by special linear submanifolds of dimensions 2, 3, 5, 8 in $GL(4,C)$, they are denoted as $R, E_1, ..., E_6, S_1, S_2$ and given by explicit expressions.
[2] J. Tölke:
Eine Bemerkung zu den Projektivbewegungen mit nur ebenen Bahnkurven
. Arch. der Math. 33 (1979), 279-282.
MR 0559548