Article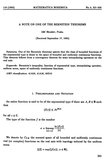 Full entry |

PDF (0.7 MB)
Feedback
Keywords:
Bernstein theorems; interpolating operators; Bernstein's inequality; function of exponential type; uniform norm; space of uniformly continuous functions
Summary:
One of the Bernstein theorems that the class of bounded functions of the exponential type is dense in the space of bounded and uniformly continuous functions. This theorem follows from a convergence theorem for some interpolating operators on the real axis.
[1] С. H. Бернштейн:
Экстремальные свойства полиномов и наилучшее приближение непрерывных функций одной вещственной переменной
. (Extremal properties of polynomials and the best approximations of continuous functions of one real variable.), Гонти, 1937.
Zbl 0131.10103
[2] С. H. Бернштейн:
О наилучшем приближении непрерывных функций на всей вещественной оси при помощи целых функций данной степени I
. (On the best approximation of continuous functions on the whole real axis in terms of entire functions of a given degree I.) Сочинения, т. II, 1946.
Zbl 0074.10805
[3] А. Ф. Тиман:
Теория приближения функций действительного переменного
. (Theory of approximation of functions of real variable.), Госиздат физмат лит, Moskva, 1960.
Zbl 1004.90500