Article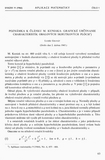 Full entry |

PDF (0.6 MB)
Feedback
Keywords:
applied geometry
Summary:
This remark concerns some properties of characteristics of enveloping surfaces generated by the helicoidal movement of a quadratic of rotation and a torus.
[1] А. Д. Посвянский:
Ортогональное проектирование на кривые поверхности и его приложения к вопросам геометрии пространственных зубчатых зацеплений
. Сборник статей: Методы начертательной геометрии и ее приложения. Москва 1955.
Zbl 1160.26300
[2] L. Granát:
O p-průmětu přímky na plochu
. Časopis pro pěstování matematiky 90 (1965), No. 2, 194-199.
MR 0192416